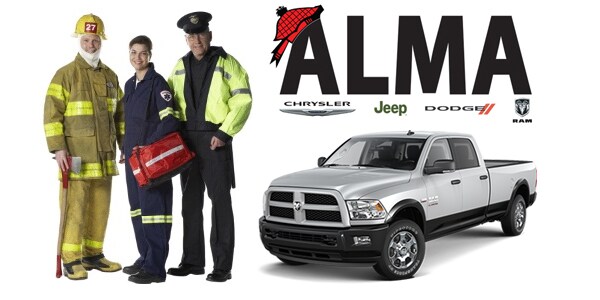 Community First Responders;


Thank you for your commitment to our community. Have you heard of the Chrysler Jeep Dodge Ram FCA program that was designed to benefit first responders with the purchase of a brand new personal vehicle? Emergency Response Incentive Program by FCA:


Constables, State Game Wardens, EMS, Law Enforcement, Fire Fighters and Volunteer Fire Fighters, ALL FIRST RESPONDERS, etc. that are required to respond via personally owned vehicle to their department for a callout are eligible for Government Concessions that will save you thousands of dollars below dealer cost. What you need:


1.       Fire/Police/Department ID badge #

2.       Notarized letter from director of department stating that first responder is on call and uses a POV to respond to their department for a callout. 

3.     Order a Brand New Vehicle from Alma Chrysler Jeep Dodge Ram built to your exact specifications. *Limited to one purchase per year by the responder.


Example discount on our most popular model Ram 1500 Big Horn (discounts vary by model)


                                        1500 SLT Crew Cab 4x4 - MSRP: $47,460

                    Government Concession Price for First Responder: $36,821.00

                                                    Save over $10,639


Ready to take advantage of this great savings? Call Eric Havens 989-681-3900 Now.